VB Casa
Aspirations are what drive us, make us push our boundaries and define success in our own way. It is these aspirations that help us find our place in the world, a place where our hearts finally find the sense of elation that we search in our pursuit of success.
VB Casa, is that place. A home that reflects your success with exclusivity; a home that celebrates your aspirations through intelligently planned luxury; a home that understands you.
The reflection of your aspirations, Now comes with exclusive luxuries
REFLECTING LUXURIES
Living Rooms
A smarter way of life to suit your aspirations
At VB Casa, the homes are defined around you to ensure what you have always dreamt about for your dream home is brought into reality exactly the way you want. From an ultra-modern outlook to a cutting-edge technology, everything has come together at one of the most convenient location. Salisbury Annex
Luxuries are rare, smart luxuries are rarer
Crafting luxuries that truly make a difference is a remarkable skill, creating luxuries that reflect intelligence is an unparalleled feat. We have achieved it at VB Casa and you are sure to notice it in every element of these residences. Limited edition apartments with a 14 Apartments & 2 Penthouses..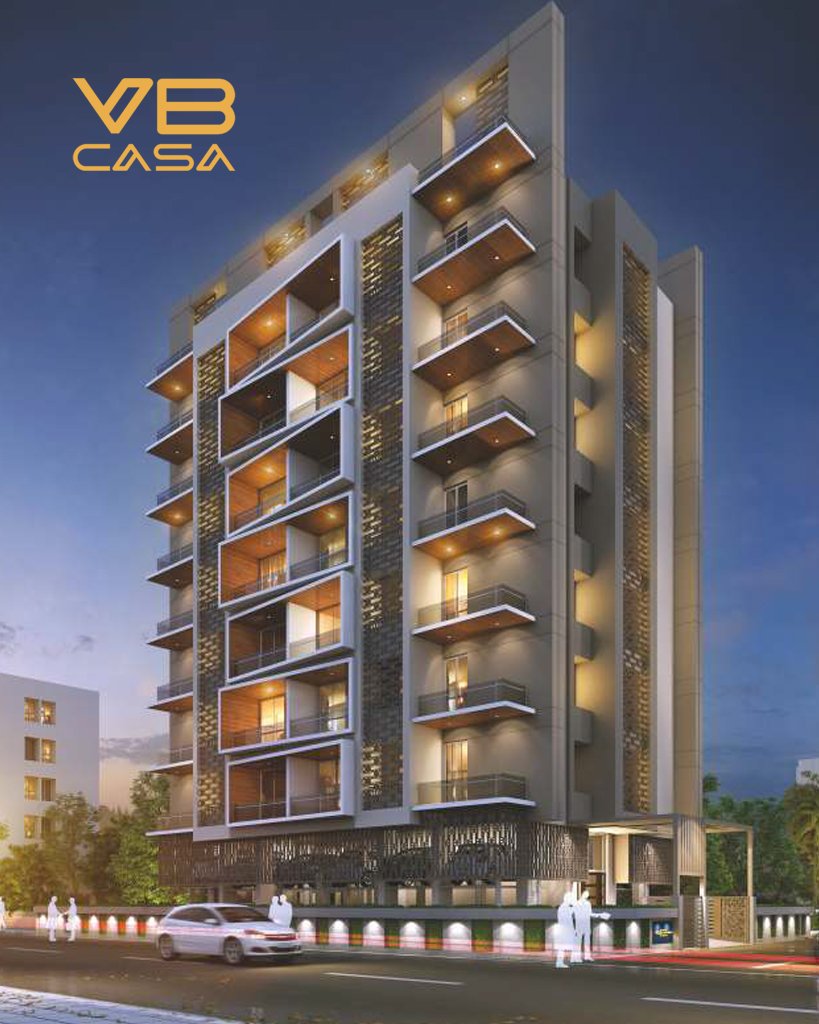 Specifications
RCC CONSTRUCTION A - Class, Earthquake Resistant Construction
Unique Features
High Range Aluminium Balcony Railing with 10mm
Toughened Glass/ HT 1050 mm
UPVC Windows – German Make
Sections Sills & Jambs with Imported Marble Flooring
Entrance Lobby with Granite Flooring, Gypsum Plaster & False ceiling and LED COB Light
300 x 600mm Thick Vitrified Tiles at Flooring of Passage/ Foyer with Gypsum plaster & False Ceilings and LED Light Panel
Walls Double
Coated Sand – faced Plaster to External Walls Gypsum Plaster and Flat finish paint for Internal Walls.
Electricals
Branded Home Automation System TV and Telephone Point in Living/Master Bedroom Home Inverter 900 VA
Living Rooms
White Goods-Central Air conditioning system VRVNRF Imported Marble flooring and 75mm high skirting
LED Light Panel Gypsum false ceilings 150 x 800mm thick Porcelain tiles for Flooring and 75 x 800mm thick Porcelain
Tiles for Skirting at Balcony Main Door – Solid Pine Flush Door with High Quality Lamination BWR Ply wood Frame with High Quality Lamination
Bed Rooms
White Goods – Branded Ceiling Fans and Central Air conditioning system
VRV/VRF Wooden Laminate Flooring 8mm thick Wooden finish HDF 75mm high
Skirting Solid Pine Flush Door with High Quality Lamination BWR Ply wood Frame with High Quality Lamination
LED Light Panel Gypsum false ceilings
Dining
White Goods -Exhaust fan and Chimney with hob and Imported Marble flooring Imported Marble 75mm thick high at skirting
GERMAN hardware fitted Kitchen Gypsum false ceilings LED Light Panel 300 x 300mm thick Porcelain Tiles for Flooring and 75 x 300 mm thick Porcelain Tiles for Skirting at Dry Balcony
Bathrooms
300 x 600mm Thick Vitrified Tiles at Flooring/Dado Gypsum/UPVC false ceilings
LED COB Light 150 x 800m thick Porcelain Tiles for Flooring and 75 x 800mm thick Porcelain Tiles for Skirting at Balcony CP
Sanitary Ware Fittings – Imported Branded Solid Pine Flush Door with Veneer + Laminate from inside BWR Ply wood frame + Stone from Inside
Common Amenities
Double Height Grand Entrance Gate with Security Cabin
High Speed Auto Door Elevator of reputed Make
Stack Car Parking as required
DG backup and CCTV Surveillance to Lift, Common Areas
DG Backup for Pumping System
Rain Water Harvesting
Fire Fighting System